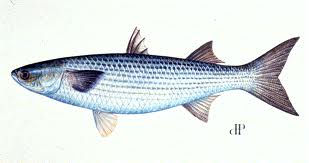 Mullet, a fish native to the Mediterranean, has been a staple of human consumption since ancient Greek times. An oily fish with a high amount of omega 3 fatty acids, the mullet is often consumed on the same day it is caught since it tends to degrade rather quickly. For this reason, the fish was often salted and pickled when consumed far from the shores of the Mediterranean. While mullet is considered a single species, there are actually over 80 species of this fish sold around the world today. The common features of these species include two separate dorsal fins, a small triangular mouth and the absence of an organ known as the lateral line. A wonderful white fish with thousands of possible preparations, you are sure to enjoy mullet during the summer, winter, spring and fall months.
Key Nutrients
Mullet provides a high amount of omega fatty acids, a positive source of triglycerides. High in vitamin and mineral content, it is also an excellent source of essential amino acids including Histidine, Isoleucine, Leucine, Lysine, Methionine, Phenylalanine, Threonine, Tryptophan and Valine.
Health Benefits
Essential amino acids provide the necessary building blocks for protein growth and development. This tends to promote healthy tissues and reduces the risk of certain cancers.
Omega Fatty Acids – Omega fatty acids are unsaturated fatty acids which help reduce the risk of stroke and promote healthy heart and circulatory functions.
Season
Being a fish, mullet can be found in most supermarkets or seafood stores year round.
Nutrition Information
Per 100 grams:
Calories (cKal): 117
Protein (grams): 19.35
Total Fat (grams): 3.79
Carbohydrates (grams): 0
Fiber (grams): 0
Buying and Storing
When buying mullet, make sure the flesh of the fish is bright in color and does not smell like ammonia or the sea. When storing at home, store the fish in a sealed container lined with paper towel for up to two days.
Best Way to Add to Diet
There are many ways to serve mullet. Grilled mullet, marinated in tarragon, lemon and olive oil, is a great recipe which can be added to any salad, rice or pasta. As a versatile fish, mullet can also be grilled, poached or roasted.
Mullet Recipe