The trick to making great guacamole is to not over-mash the avocados. Leave them slight chunky and resist the urge to blend them into a green paste. I don't always add tomato but when I do, I make sure to take the seeds out an let it drain for a little bit before chopping and adding. You don't want too much extra liquid in your guacamole especially since you will be adding lime juice.
Serves Four People
Ingredients
2 tablespoons finely chopped cilantro leaves
2 teaspoons finely chopped red onion
2 teaspoons minced jalapeño chillies (remove seeds unless you like it hot!)
1/2 teaspoon Kosher salt
2  large ripe avocados (split in half and take the seed out)
1 small tomato (Seeds removed and drained of liquid)
2 teaspoons freshly squeezed lime juice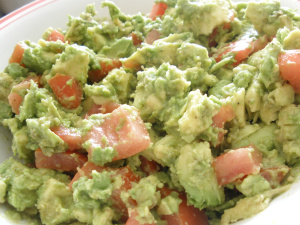 In a wooden bowl, use the back of a fork to mash 1 tablespoon of the cilantro, 1 teaspoon onion, 1 teaspoon of minced chile, and 1/2 teaspoon salt together against the bottom of the bowl.
Add the avocados and mash a little but not too much, you want the avocados to still be chunky and not moosh. Add the remaining cilantro, onion, and chile into the mixture. Stir in tomatoes and lime juice,  taste to adjust the seasonings, eat on it's own or dip with some warm tortilla chips.